File Joiner 2.0 includes one bug fix and some new and changed features. Most importantly File Joiner now has settings dialog and gets language support although there is currently only one language besides English, I hope some of you will be willing to help translate File Joiner to other languages. :)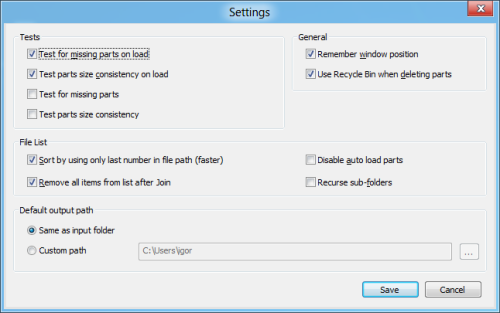 File Joiner 2.0 new settings dialog
I also changed sorting buttons on the right side of File Joiner. They now have images instead of text, this way it will be easier to translate to other languages because I don't have to worry about long button texts.
File Joiner 2.0 new look
In case you were wondering these screenshots are from Windows 8.
Translating
I will need your help to translate File Joiner to other languages. Example translation is located in "lang" folder inside File Joiner rar archive, and instructions can be found on File Joiner translation page.
There are about 110 string that need translating, and they are mostly very short.
Update
File Joiner 2.0.1 - fixed a crash issue with file auto loader.
File Joiner 2.0.2 - added Russian translation by Valerij Romanovskij
File Joiner 2.0.3 - added Croatian (by me) and Swedish translation by Åke Engelbrektson
File Joiner 2.0.4 - added French translation by André Di via
File Joiner 2.0.5 - added translation to Polish language (translated by Toma Dusheyko)
File Joiner 2.0.6 - Arabic translation (by Majed Alotaibi)
Big thanks to all translators for taking the time and effort to translate File Joiner.
To see all changes in File Joiner 2.0: Changes.
File Joiner 2.0.6: Download.